Okay, so uh hi!!
I'm new to this website, it is great but kinda confusing so forgive me for any mistakes!! Anyways my name is Nicole, I love animals and I love taking photos too! I currently have 5 dogs and 5 cats, I know it seems a bit much but they all get equal attention and are very loved.
I'm not good at talking about myself, I'm actually not good at talking at all lol but I would like to tell my story about why I decided to adopt a hamster. It all started last year, march 31 2020 when I lost my cat Oscar for unknown reasons. He was sick when we first got him, he had something wrong with his stomach which caused him to not be able to eat or drink, but we did heal him from that. However, a few months after he got sick again, we didn't know what was wrong with him, neither did the vet he just started limping and after a few weeks he couldn't walk at all. We tried to help him, we really did. But 9:20pm he passed and it was the scariest, darkest and most depressing night I've ever lived through...He was only 8months..Rest in peace my lil buddy <3
He was truly my best friend, I never loved anything as much as him and I didn't wanna get anymore cats after that, especially since we still had two already! But my mom ended up getting three not long after, I guess it helped her with grieving... Not long after that we found a puppy and kept her. And then there I was, I had 5 cats, 5 dogs but no Oscar.it hurts me till this day that he isn't here because I'm really in need of a friend and as much as I love our other animals they aren't as sweet and caring as him :'(
.........but after 1 year and 5 months I was finally ready to consider getting another animal ( even tho we already got some, I was FINALLY ready ) and I didn't know what animal I wanted, just that I didn't want anymore cats or dogs yet. Let me tell you, never in my life did I think my mom would allow me to have a hamster, so I always jokingly asked KNOWING SHE'D SAY NO but 2 weeks after the last time I asked she surprised me with a dwarf hamster for my birthday! I was shocked and happy, still am! But I never did the research because I figured i'd never have one but here I am figuring this little guy out and tbh its harder then imagined but I do love him!!
May 26, 2021
Meet Walter , male , age unknown ( we weren't told ) , dwarf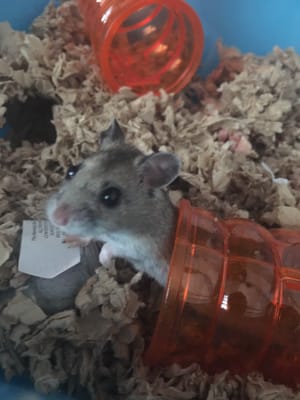 He is still new, so I don't know his full personality yet but he is funny and so far he isn't very social lol