Perhaps a picture of a Dove Tort who never did reveal her tort patch(es) might help out.
Divisha was a sorta rescue, Meaning she was not from a pet store but from a BYB who wanted to dump a bunch of Hamsters for free. She was kept in with her siblings, and many other Syrians of both sex so who knows among her Black eyed Cream, Black, Cinnamon, and Dove Relations who daddy was to her soon to be born litter.
On September 17,2013 She birthed a big litter of 10 pups of which 3 were Black, 6 were Black Eyed Creams, and one male who was different in many ways from his Black eyed cream siblings in the fact he had black ears at just 5 days old and a much more orange tint to his creamy like coat at just 13 days old.
Here is Divsha when she just came home with me.
Divsha 9-10-13-e.JPG
Divsha 9-10-13-d.jpg
She only showed she was pregnant when climbing about my hand
Divsha 9-10-13-f.JPG
Here is her and her 21 day old pups. See if the odd boy can be seen which proved she was indeed a Dove Tort
I kept the odd male and he became Ezekiel
Through his progeny he proved beyond any doubt to be a Cream carrier Melanistic Yellow(Ghost Melanistic Yellow for some). Since Yellow is sex linked it proved that though she didn't look Dove Tort Divsha Had to be Dove Tort. The only Honey coloring I could find was on her face right on her cheek, but it often changed back to Dove color during the different seasons.
Here are two Black Tort girls of his when bred to a Cream Masked Black Dominant Spot female.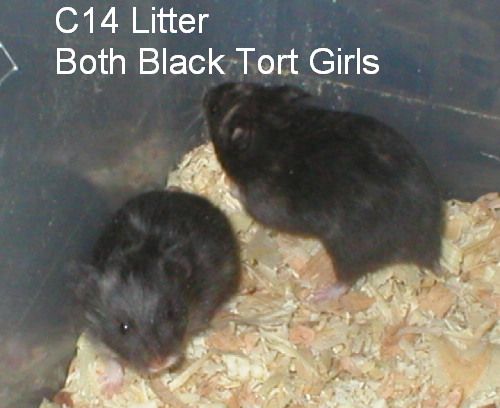 When bred to Faith who was a 4 generation pedigreed Heterozygous Extreme Dilute Black Dominant spot He produced Hope a much more obvious Dove Tort
Hope went on to produce Habib who Is a beloved pet with a family he was placed with after Hekomi needed to make room for her current project of establishing the Extreme Dilute gene in Canada. Habib is the sire of her beautiful Dulce a Homo Extreme Dilute Black Tort.